About Us
On a cold December night in 1993, Pipe Major A.G. Lee, Jr., of the Black Thistle Pipe Band, and Pipe Major David Thompson, of the Grove City Highland Band, began discussing uniting their bands. Several weeks later members of both bands met and the Allegheny & District Pipe Band was born.
In August 2007 the band embarked upon another signifcant chapter in its history. In conjuction with Seton Hill University unveiling plans to build a new $21 million performing arts center in downtown Greensburg, Pa., SHU announced a new and exciting partnership with the band, now performing as Seton Hill University Pipe Band.
Under the new partnership the band will not only continue to perform at pipe band contests both in the United States and Canada, but will also be featured at university events and functions. The band currently wears the Ancient Duncan Tartan on their kilt but plans to change to the Seton Hill Tartan.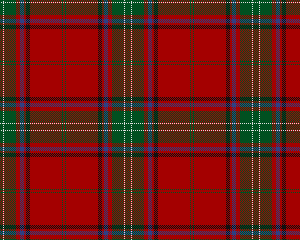 Seton Hill Tartan
Currently the SHUPB has over 20 members in its Grade 4 band. The band offers developing students sound and solid rudimental education in piping or drumming. SHUPB realizes that instruction is a very individual experience and each student has different methods of learning. We adjust our teaching methods accordingly to help new musicians grow in their art. Piping and drumming instruction is private and open to all ages, whether you are a student at the university or not. SHU plans to offer piping and drumming instruction as electives.
In October 2011 Pipe Major Lee stepped aside and Piper Josh Dobbin was made the new Pipe Major of the band. Many thanks to Pipe Major Lee for his 18 years of service and dedication to ADPB/SHUPB! Best wishes to Pipe Major Dobbin as he assumes the helm!
SHUPB takes pride in its performances and its new role as ambassadors of music for Seton Hill University, and offers the services of the band for parades or private ceremonies. Please contact A.G.Lee or Debra E. Lee at 724-420-5442 or ashlea1985 @ aol.com for information regarding instruction, hiring the whole band, or a smaller ensemble of pipers and drummers.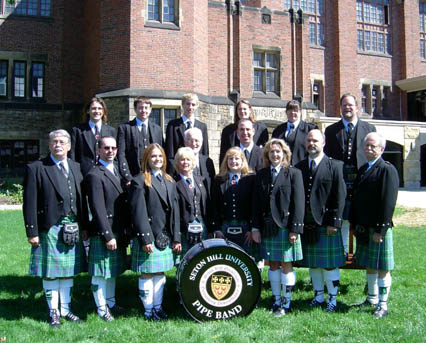 Seton Hill University Pipe Band